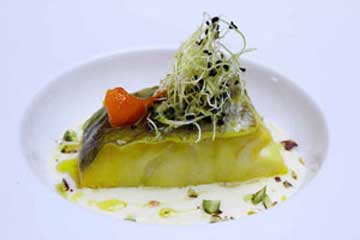 What will the session consist of? It will consist of creating a merge of courses and wines. Aromas, flavours, textures and colours will be mixed in order to make a perfect combination. And what better way to do it than showing it directly and personally to the guests, to involve them in a unique cuisine experience.
Hotel Château Viñasoro invites you to participate in this cuisine art session where the Maître and the Chef will show the guests the fusion between the cuisine and the wines of the region.
The products used by the Chef in the courses will be from La Mancha and tradition and avant-garde techniques will be joined together. Wines, with protected denomination of origin, are from different varieties and they are all table wines.
Hotel Château Viñasoro offers this session in order to give a demonstration where the cuisine can be explained from the inside and the customer can be introduced in the wine culture by teaching them how to use these products properly in every day cuisine.
For this reason, we invite everybody who wants to get closer to the cuisine from La Mancha and the wine culture, to an idyllic and familiar environment, with a spectacular landscape in the heart of the plains of La Mancha, where they will be accompanied by experts.